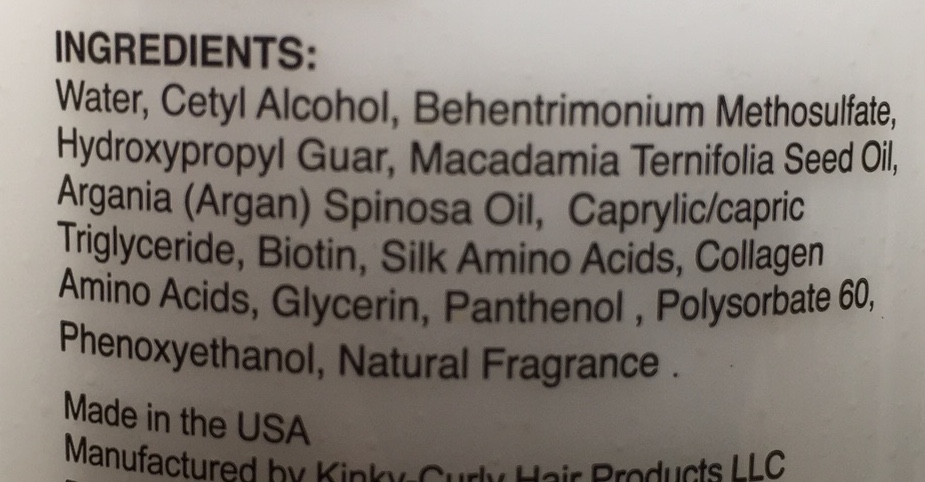 Product summary: This product isn't a slippery comber – it feels a bit sticky to comb with, but it still combed well.  It is a super-clumper. It weighed my hair down to the point it felt heavy, and kept my curls firm and smooth. It  does leave a slight residue on your hands after handling it, but it rinses off easily. To use it this way is not for the faint of heart. Or you could use less of this than other products (this feels more concentrated/has less water). But if you want firm, heavy tendrils, this is the product to try.
Update 4/1/2017: It's been a week since I finished my week using this product. This product not only clumped like no other, in weighed my hair down more than any other product. It firmed my curls, but made them longer and larger. My hair actually felt heavy. I liked that feeling of having heavy hair. It kept my curls nicely clumped all week. The only thing was that it left a slight residue on my hands when I did my hair, but that rinsed off easily. Again, I know I'm not using this product how it was meant to be used, but as far as I know this is the only place that will tell you how a product works with the tightly curly method. And this worked surprisingly well.
I probably will not use this as a go to conditioner, because I didn't like how it felt when I was using it to comb with (I like the glassy smooth feeling of conditioners with silicones, which is a personal preference, I know). But if ever I needed or was in the mood to have my hair hang longer and feel nice and heavy and well clumped, this would be the product I'd reach for.
Update 3/18/2017: I just finished using this conditioner. Now, I know I'm not using it how it's marketed, which is to put it in, sit with it, rinse it out, and then buy and put on another product with nearly the same ingredients to leave on your hair. I'm just cutting right to the basics and using this directly as a conditioner/comber/ clumper. Most conditioning-type products have nearly the same ingredients, even if they tell you one is for rinsing out and one is for leaving in. This is purely for marketing. If they can sell you two to ten products instead of one or two, then that looks really good for their company's bank account. But it has nothing to do with reality, which is that the same ingredients can be used the same way across different products, regardless of how they are marketed to you.
This product has a warm coconut scent, which I like. The texture was interesting, it almost had a relaxer texture. Sort of a thick cream you have to scoop out of the jar and rub between your hands to spread it into your hair. My routine is to shampoo my scalp, then put in a small handful of the conditioner to my scalp and tangly areas, rinse it out, and repeat. Then I slather in two full handfuls, one per side, distributing it through all my hair, concentrating on the tangly areas again. Then I get out of the shower and comb my hair without squeezing out any water or towel drying. So I did that here.
The combing was interesting. It is a thick, sticky, slippery product (thippery? stippery?). I wasn't sure which would win out when combing, the slipperiness or the thickness which could quickly turn to stickiness. I decided to keep going without adding extra water unless I had to. So the entire time I was combing, I kept thinking that for the next section I was certainly going to have to get up and add more water. But then I started the next section, and didn't need extra water, but I figured the next section would need extra water. But it didn't. It was sticky, but I could keep combing through my hair without having to use force. And though it felt like it took longer than usual, it ended up taking about the same amount of time to comb as it does for one of my all time favorite go to conditioners.
The interesting thing is my hair feels really heavy now that I'm done combing. It clumped really firmly, and my curls seem to be pulled a bit straighter. So this may be a great product to use if you're going to be in a lot of humidity, or you want to weigh down your curls even more to add length to your hair.
I'll see how it dries, and how the week goes before I can recommend (or not), but I definitely see possibilities for this product if it does well.
3/9/2017: It took me a while but I finally went through all the ingredients in this product, and they look okay. The collagen amino acids don't thrill me, but it isn't a deal breaker. It looks like there's some versions of this ingredient that can be pretty salty, but not all versions are. So I'll give this one a shot.
12/4/2016: I found this in a Rite Aid in Louisville and the ingredients looked okay during a quick scan while standing in the store. I haven't gone through and looked up every one of them officially yet, so it's still in progress. If the ingredients still seem good after checking on them all in the ingredients dictionary (and in my ingredients books if not in the dictionary yet) I'm hoping to try this in the next couple weeks.