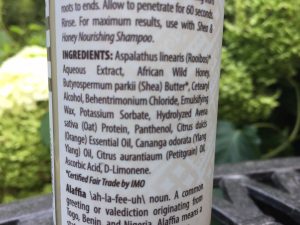 I've been wanting to add more natural-type products to the combing conditioner recommendations, so I picked up Alaffia Shea & Honey Nourishing Conditioner, Citrus Blossom, along with the shampoo, (reviewed as well). I'm especially picky about combing conditioners, because they have so much work to do and I leave them in my hair, but the right product makes life so much easier. The trick is just finding the right ingredients in a product to do what you need it to do.
As I was going through this conditioner, several of the ingredients made me not want to put it on my hair as I researched them. This has citrus essential oil (though I'm sure it's there in a small amount as it's listed after panthenol). I always feel uncomfortable when I see citrus oils in combing conditioners, as I find them to be really drying. So I wasn't happy to see that listed, but then I saw it had petitgrain oil. I had to look that one up. Apparently it's a really irritating oil for the skin. And as I kept looking, there was D-limonene, known also to be irritating.
So after all that, I just didn't want to use it in my hair. That's why I'm not recommending this product, which is too bad, because I really like all the company seems to be doing. I'll keep my eye out to see if there are any other conditioners made by Alaffia, and maybe they won't be Citrus Blossom scented, so will not have all the drying citrus oils that make me so nervous.